Pahara - Preselling House & Lot
Premium project of Megaworld in Southwoods City Carmona Cavite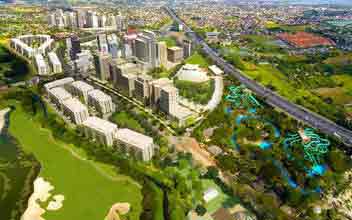 Project Type : House & Lot
Listing Type : Preselling
Developer Name : Megaworld
Units : Lot,
Price: ₱ 4,961,250 & Up
Address : Quarry Hills Street, General Mariano Alvarez, Cavite, Philippines
Location : Carmona , Cavite PH Pahara Megaworld Pahara Pahara Megaworld Pahara Carmona
https://pahara.southwoodscity.com/
Pahara is the first mega world project in Southwoods City. It is one of the high residential units of different community created by Megaworld. Since it's a Megaworld project, we all know it's going to be distinctive and luxurious like all of their other projects. It is few minutes from Alabang, Makati, and NAIA. The address is meant to bring convenience for people looking to make their workplace near their homes. The lifestyle of Pahara at Southwoods City is fixed for the residents and is characterized by comfort and luxury and generously spaced common areas and units for a broad range of business. Pahara at Southwoods city is built at the center of the City. It brings convenience to the residents by giving them easy access to a lot of facilities for business, recreation, and shopping. The larger units of the area are about 239 SQM to 508 SQM. The place is entirely furnished with high-grade fittings and finishes.

Southwoods City is a township development by Megaworld that's approximately 561 hectares. The development is located in the provinces of Laguna, GMA, Carmona, Cavite, and Binan. It is predicted to emerge as a township development that is most premier in Southwoods City. Southwoods City is said to have the most convenient access to Southwoods East of Luzon Expressway. (SLEX). The place is also approximately 35 minutes away from Makati City. The premier city of Southwoods has a lot of emerging current developments, and they include; Sto. Nino de Cebu Parish, Manila Southwoods Golf, and Country Club, Manila southwoods Residential Estates, Splash Island, Outlets at Southwoods, Colegio de San Agustin, and even Mcdonalds. Megaworld also promises to provide more development to encourage southwoods further to be able to self-sustain itself. These future events include; BPO Buildings and IT Parks, Transport Hub, Southwoods Mall, Unihealth Hospital. The top priority of the developers is to make Southwoods City have the element that made their other projects like Eastwood City and Mckinley Hill a success. Megaworld is set to add to its pioneering township concept as it is configured to add Pahara as a further dimension.

Megaworld may have developed Pahara; they are not the only developer in Southwoods City. Global Estate Inc. controls most of the developments, and Megaworld controls the exclusive Marketing agent of Southwoods. Soutwoods city has been planned carefully to be the best town in the heart of Binan Laguna and Carmona Cavite. The place is complete with everything you need to live a luxurious, well-rounded and active lifestyle.

The Pahara at southwoods is starting to emerge as both business district and also a place for leisure and in the process still, maintain its suburban lifestyle. The strategic location was chosen to make it closer to a lot of commercial and financial amenities. The Pahara is just 30 minutes from Taguig and 35 minutes from Makati. That's not all, the place is conveniently located 15minutes from Alabang and accessible through the South Luzon Exit.
The Pahara at Southwoods also offer work, play, learn, and golf concept like some other megaworld project. The goal of the project is to give you everything you want at a convenient location. It is visioned to be a global business district that competes with other communities. The place is built with state of the art facilities that are meant to solve the biggest problem of the BPO industry when it comes to the term of needs. Southwoods City will soon launch its Mall that will feature a lot of demands of the residents in the area which includes specialty shops, digital cinemas, a supermarket and also a lot of dining choices for different families. Residents will also be given access to all their necessities and access to advanced medical facilities, top schools, and a dedicated transport hub.

There are 602 lots in the Pahara, Southwoods City. The lifestyle of the place is to make the residents self-sustain themselves. Pahara is a Bengali term which means hills. The area was named Pahara because of its location that is within green shapes and slopes of the Manila Golf and Country Club.It is one of the Golf estates of Manila Southwoods Residents. The future residents of Pahara are set to be part of the Manila Southwoods Estate Homeowners Association. They will give them the opportunity full access to the existing amenities in the community. Thes e features include children playground, the gym, multi-purpose function area and a swimming pool.

The amenities and features that are readily available to the residents include a swimming pool for the whole residents to cool off and relax and a multi-purpose function area that is exclusive to the inhabitants of the building. If you are like long walks, then you are in the right place with jogging paths laid down already for you so you can go for some jogging and come back with no fear of missing your way. There are also different kinds of gardens for you to feel closest to nature, some of them include the Color Garden, Meditation Garden, and the Aromatic garden. They also have a Yoga and Reflexology garden for the ladies that loves to stretch and keep their body in shape. Megaworld always shows the importance of fitness with their fitness gyms; nothing is different here with the well-equipped fitness gym provided in the Pahara of Southwoods City. They also have a children's playground if you like your kids to go outdoors and play with others in the environment. The place is so vast if you and your family like to cycle, and there is a golf area for the gentlemen to spend their free time.

With all the location and amenities provided in Pahara of Southwoods City, nowhere else is better for you and family to stay. The place has such a uniqueness that makes you feel like you are one with nature. If you want a natural, active, and all-around lifestyle, then the Pahara at Southwoods City is perfect for you.
Popular Links
Pahara
Pahara Location
Pahara For Rental Units
Pahara Resale Units
Pahara Pre-Selling Units
Pahara Showroom
Pahara Amenities
Pahara Price
Pahara Contact
Pahara Megaworld For Sale Price List

| Unit Name | Project Name | Developer | Price (₱) | Location |
| --- | --- | --- | --- | --- |
| Lot Area - 240 SQM | Pahara | Megaworld | 5,381,356 | Carmona, Cavite |