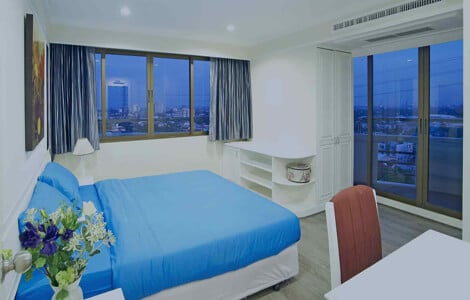 With your luxury residences, you're assured that your new home and living space will be a profitable investment. Care to know more about our townships and our luxury residences?
Alabang

In the south, you can find the glitz and glamour of Beverly Hills in Alabang West. Since Alabang has been known for being the booming business and commercial district that it is, the prime property will have a 1.3-km commercial and retail row, almost like Hollywood's famous Rodeo Drive.

Besside this will be the exclusive Alabang West Village with 788 residential lots ranging from 250 to 800 square meters. It's strategically located at the heart of Alabang's high-end communities and golf course. It's also highly accessible through the South Luzon Expressway-Alabang Exit and the Daang Hari Exit.

Pasig
In Pasig, Woodside City will be the country's first ever green township. Environment-friendly, 1,000 trees will be planted around the development. Office buildings will be constructed following the Leadership in Energy and Environmental Design (LEED) standards. Office towers will be sustainable and will be designed by the world-renowned architectural firm Skidmore, Owings, and Merrill. Going green will be easy with a rainwater catchment facility which will utilize rainwater and grey water for flusing and landscape irrigation, a network of bicycle lanes, and wide tree-lined sidewalks.

Boracay
How about Boracay? Known all over the world for its pristine white sand beaches and crystal clear waters, live the island lifestyle in world-class resorts. Megaworld's Global-Estate Resorts, Inc. Will develop Boracay Newcoast, a mixed-use leisure and resort development envisioned to be the next world-class tourist destination. With luxury and boutique hotels, an exclusive residential village, upscale villas, and a commercial and retail district, this will make it the most anticipated destination in Boracay.

Davao
Considering Davao? Progressive, Davao is the center of economic activities in the southern Philippines. Look for the rise of Davao Park District, which used to be the Lanang Golf and Country Club. This is envisioned to be Davao City's CBD and a major hub for IT and BPOs in Mindanao.

Quezon City
Look no further in Quezon City when you go to Eastwood City, Megaworld's first ever and most successful integrated township project. With the country's first cyberpark, 19 luxury condominium towers, 10 first-class corporate office buildings, ongoing residential projects, three malls and a slew of commercial and retail shops, and a modern IT Park, the community is also home to more than 22, 000 residents and 55, 000 workers to date.

Adjacent to the Manila Polo Club, Manila Golf and Country Club, Forbes Park, and Dasmarinas Village is Forbes Town Center with Forbes Town Road, a retail strip. It's also connected to Burgos Circle. Prepare for a lifestyle of absolute leisure. Inspired by Bugis in Singapore, you'll also have a view of the Manila Golf Course.

Iloilo
Envisioned to be the next central business district in Iloilo City, you can find excitement in Western Visayas with the Iloilo Business Park. Soon, there will be luxury residential condominiums, BPO office towers, a Megaworld Lifestyle Mall, a boutique hotel and commercial district, a retail strip, open parks, a transport hub, and the highly-anticipated Iloilo Convention Center.

The Fort
McKinley Hill is the largest township development in Metro Manila, where you can experience a taste of European living. Inspired by Italian and Spanish cities, see the wonder of sophisticated Southern Europe. It has a unique Mediterranean design, and it's just a place for relaxation and living since it's master-planned.

Also within The Fort is the posh, modern European-inspired McKinley West. With its unparalleled location and accessibility, this ultra high-end township will soon see a modern business district. Enjoy cosmopolitan living in Uptown Bonifacio, where the privileged can enjoy a hassle-free live away yet also near the metro.
Pasay

In Newport City, the township has found itself as a world-class tourist destination with luxury residences and prime office spaces. Right across NAIA Terminal 3, there is also an entertainment complex with easy access to Resorts World Manila. Resorts World Manila is the leisure capital of the country, and a joint project of AGI subsidiary Travellers International and Genting Hong Kong.
Our Different Locations

In northern Bacolod, Northill Gateway will soon rise along the new Circumferential Road on the boundary of Talisay City and Bacolod City. With direct access to the new Bacolod-Silay airport, Nortill Gateway is a joint development of Megaworld and Suntrust Properties, Inc., as well as with the Lacson Family.

In the South of Manila, Southwoods City is the largest and only fully-integrated township with a golf course. Located in the boundaries of Cavite and Laguna, it will add the golf component in living.

Sta. Barbara Heights is located at Brgy. Inangayan in Sta. Barbara Iloilo, a development of Megaworld's Global-Estate Resorts, Inc. in Western Visayas. Adjacent to the propery are Iloilo Golf Course and Country Club (the oldest country club in Asia), and Santa Barbara Church and Convent.

An industrial park in Tanza, Cavite, Suntrust Ecotown will be Megaworld's first development-cum-industrial park. Accessible through major airports and seaports, business districts, and main thoroughfares, Suntrust Exotown is a perfect eco-friendly location for foreign companies.

In Cebu, one can find The Mactan Newtown, Megaworld's first major township development with its own beach beyond Metra Manila. Soon, a Cyberpark will rise. Enjoy a condominium lifestyle and spectacular views of the historic Mactan Shrine, Magellan Bay, and the Hilutungan Channel.

In Bacolod, you can find The Upper East, and is bounded by Burgos Avenue, Lopez Jaena Street, and Circumferential Road. This is a prime location now known to be Bacolod's booming commercial and BPO district. Inspired by New York's affluent Upper East Side, The Upper East will be Bacolod's own version of an upscale lifestyle.

Enjoy the cool breeze and a luxurious lifestyle with scenic vineyards in Twin Lakes. Like something from a European travel book, experience real grapes that can produce wines, within the comfort of your own home. As the country's first vineyard resort community and Tagaytay's first ever master-planned integrated tourism estate, Twin Lakes raises the bar of living in the south.
Megaworld Residences

What about Megaworld residential properties?
Holland Park in Cavite offers an unobstructed view of the southern skyline with the condominium's 161 units. Arcaded retail spaces will be features at the ground floor. And this zone with be an eclectic mix of good food, specialty services, fashion boutiques, and more. Also in Cavite is Pahara, the first luxury residential development in Southwoods City. Its location is within the slopes and greenscapes of the Manila Gold and Country Club.

In Northill Gateway in Bacolod City, Forbes Hill is a high-end neighborhood with first-class leisure and recreational amenities promising low density. Only 20 minutes away from downtown Bacolod, it's also 10 minutes away from the new Bacolod People's House and three minutes away from The Ruins.

One Eastwood Avenue is strategically located inside Eastwood City in Quezon City. It's a spectacular 47 and 52-storey twin tower with an all-glass façade, having a direct access to Eastwood's Lifestyle Mall, wellness centers, office towers, and retail hotspots.

Nestled in Legaspi Village, Makati, the Greenbelt Hamilton is a luxury residential tower with 31 stories. Its design is cutting-edge and dynamic, a wonder of glass and concrete. It's minutes away from Makati's malls, the Makati Medical Center, the Asian Institute of Management, and Legaspi Park. Nearby is Paseo Heights in Salcedo Village. It has 30 stories and has a great view of Jaime Velasquez Park.

Along H.V. Dela Costa Street on the quiet side of Salcedo Village is Salcedo SkySuites, a 31-storey residential high-rise that boasts an amenity deck on the top floor (which has a heated infinity pool). To be launched soon is San Antonio Residence, a 40-storey tower along Sen. Gil Puyat Avenue and in close proximity to Ayala Avenue. Three Central is an important residential condo located on the financial side of Ayala Avenue in Salcedo Village. With twin towers featuring 50 and 42 storeys, it has a glass façade.

At the heart of McKinley Hill is The Florence, the first and only serene Italian garden-inspired residential community in Fort Bonifacio. Reminiscent of the Renaissance within the Tuscan region of Italy, The Florence is a gated garden community. Also in McKinley Hill is The Venice Luxury Residences. Megaworld sought the advice of Rome-based architectural firm Paolo Marioni Architetto to stay true to its Venetian inspiration.

The Viceroy is also within the same township, and it's the newest executive residence condo that's young and modern. With 4 towers of 22 storeys each, it offers studio and 1-bedroom units. Close by in McKinley West is St. Moritz, luxury residential estates inspired by the most expensive houses in London. It was designed by UK-based architecture firm Broadway Malyan, and has select bathroom pieces by Philippe Strack from Duravit, kitchen design from luxury German brand Leicht, and energy-saving, eco-friendly built-in home appliances from Bosch.

Three residential properties are in Uptown Bonifacio: One Uptown Residences, with cutting-edge architectural design; Uptown Parksuites, a 50-storey glass-and-steel tower; and Uptown Ritz, a 45-storey condo with two to four-bedroom units.

In Newport City, you can find 81 Newport Boulevard, a six-cluster community; 101 Newport Boulevard, with its Art Deco influences; and 150 Newport Boulevard, a 10-storey development with a classical-style clock tower.

At the heart of Manila's Chinatown is Noble Place in Binondo, a 47-storey luxury condo that offers views of Manila Bay, Intramuros Golf Course, and Chinatown.

One Madison Place is in Iloilo Business Park, located in Mandurriao District. It will feature three towers, and will be accessible to luxury hotels, a Megaworld Lifestyle Mall, and the Festive Walk commercial strip. Also in Iloilo Business Park is Lafayette Park Square, which features French and Spanish architecture. Reminiscent of majestic chateaus on the border of Spain and France, Lafayette Park Square will evoke a lifestyle of charm and elegance. The Palladium is the fifth residential tower to rise in the same township, and is poised to be the tallest residential condo in Western Visayas with its 22 storeys.

In Mactan Newtown, One Manchester Place boasts of redefined living for its spectacular views of Mactan Shrine, Magellan Bay, and the Hilutungan Channel. One Pacific Residences is a four-tower residential enclave that will be easily accessible to malls, beautiful beaches, and other entertainment centers.

Lastly, there's Cityplace Twin Tower Residence, a ready-for-occupancy luxury residential condominium finding itself at the top of Lucky Chinatown Mall, under Megaworld Prime.